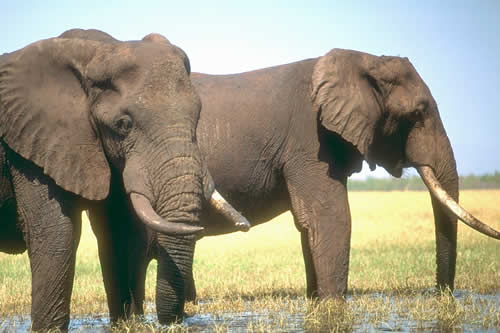 Zimbabwe has an abundance of wildlife
An array of hand woven baskets and wooden curios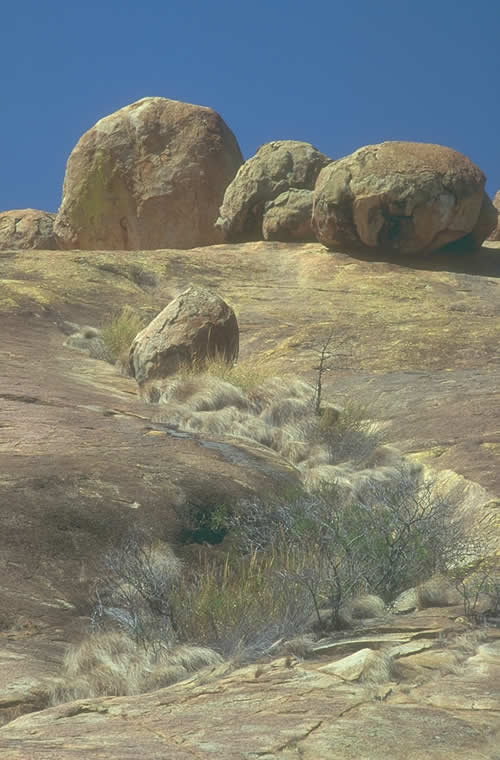 The amazing Matopos National Park
Airport Transfers

Guest transfers from/to Bulawayo airport in the Hornung Park Lodge vehicle cost US$40 (max. three persons) each way. Please book this service in advance.
At present, the easiest flight connections are offered by South African Airways. Most of the flights from Europe are night flights, and without jet-lag because Zimbabwe is on GMT + 2, or the same as middle European time.
Visas
Regulations regarding visas may also change without notice - please check with your travel agent or the Zimbabwean embassy before departure. There is a Government "visa" tax on arrival in Zimbabwe of US$30.
Currency
At present Zimbabwe does not have its own currency. The US$ or the South African Rand are legal tender and these are the currencies most commonly used.
We strongly advise you to bring cash in small and large denominations, or US$ travelers cheques as credit cards are also not widely accepted.
As there is no Zimbabwe coinage, it is not uncommon for shopkeepers to offer change in cellphone airtime credits, till slip credit notes, sweets or snacks at the till point, or sometimes South African coins. A practical solution!
Climate
Zimbabwe lies in the tropics but because of its altitude (averaging 1000 metres above sea level) it has a very comfortable climate. Christmas falls into high summer and the rainy season which lasts from October to April. October is usually the hottest month of the year. Summer temperatures average between 25° and 35°C, but we would recommend some long-sleeved garments as there can be a few mosquitoes. Winter is the dry season (May to August) when there is 96% daily sunshine and temperatures of between 15° and 25°C. The nights are crisp and sometimes as cold as zero degrees, so bring good warm clothes if you are visiting us in winter.
Malaria Prevention
Although Bulawayo city is not in a malaria area, we strongly advise that you contact your doctor for malaria prophylactics before you leave for Africa, especially if you are coming during the rainy season. Anti-malaria medication must be commenced 2 weeks before arrival.