Top accommodation in Bulawayo, in private thatched cottages set in tranquil gardens a short drive from the city centre.
Each of the five thatched cottages are comfortably furnished and there is a swimming pool, all-weather tennis court, private restaurant, bar and lounge area for the exclusive use of guests. Rates include bed and breakfast.
The thatched cottages are self-contained and designed for two people. Set among tranquil green gardens, each cottage has a comfortable living room with Swedish fireplace, a fully-equipped kitchen, a double bedroom with en-suite bathroom and built in wall safe, and a shady patio overlooking pleasant gardens and lawns. Hair dryers are built in and there are electrical sockets and adapters for your appliances.
There is also a flat screen television with DVD player, and disks in German or English can be borrowed from the Lodge's collection. In July and August the weather is sunny but evenings are cold, and it is pleasant to sit by a crackling log fire and watch a good movie.
The owner-run Hornung Park Lodge was designed with YOU in mind… for business visitors it is a secure, quiet retreat away from the meetings and conference rooms. For tourists Hornung Park Lodge is perfect for those who just want to relax in a friendly, peaceful atmosphere while planning their next adventure. There is even a 9-hole golf course next door.
Airport transfers can be arranged, and advice on local tours and attractions is freely available.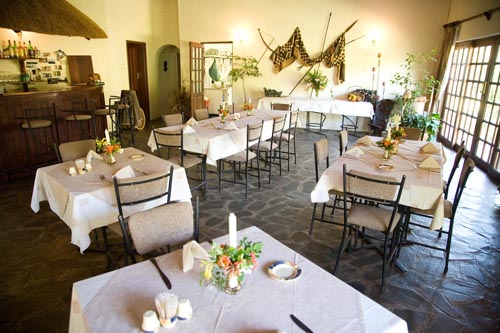 The Dining Room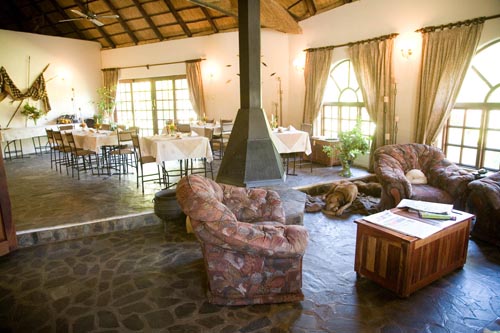 Lodge Lounge Area
Your Hosts – Fredi & Rita Ruf
Hornung Park Lodge, 79 Burnside Road, Bulawayo, Zimbabwe
Tel: 00-263-9-246868 or 00-263-9-241211, Email: lodge@hornungpark.com